Our Pastor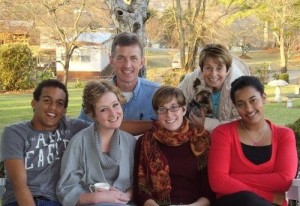 Lee McNeil is first and foremost a husband, secondly a father and thirdly our pastor.  Lee and Jane have been married for 28 years. They have four incredible kids: Nathan, Kirsten, Anna, and Rebekah.
Lee has been in the ministry for 28 years.   He began serving his first church, Shiloh UMC, while still studying at Emory University. After two years, at this church he served in the founding of a church in Southern California.  Three and a half years later, God called Lee and Jane back to Georgia to start a church and mission work in Athens.
They have lived in Athens for almost 21 years.  While here they established a very successful college bible study, planted a church, began The Sparrows Nest Ministry for the poor, and co-founded The Healing Place (a residential treatment facility for alcoholics and drug addicts).
Most recently Lee founded and led a contemporary worship service at Tuckston United Methodist Church, where he also served as the associate pastor.  One of his favorite accomplishments while there was the birth of an extensive foreign outreach program. This labor was primarily focused on aiding, The Shade and Fresh Water Project, (a ministry of the UMC), which serves poor children and their families all over Brazil.
In 2004, Lee released his first musical CD entitled "Wrapped in Love".  He has two new CD projects in the works.  One of them will be a compilation of original worship songs and the other will be an inspirational CD entitled "Sweet Communion".  As of now, most of his ministerial energy is being spent working as the pastor of Hope Springs Christian Fellowship in Athens.
No public Twitter messages.

Categories

Links

Contact Hope Springs

1025 Baxter Street
Athens, Georgia 30606

706.549.0350
info@hopespringsathens.com